Obituary for Theresa Margaret PROUDLOCK ((nee Clancy))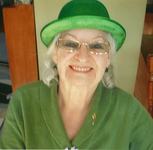 PROUDLOCK, Theresa (nee Clancy)
Passed away peacefully at home with family by her side on Thursday, September 25, 2014 at the age of 87. Beloved wife of Stanley. Loved mother of Michael (Zlata), Laurence (Kimberly) and Kathleen (Jeff). Cherished nana of Haley, Rebecca, and Adam.
Visitation will be held at the Dods & McNair Funeral Home & Chapel, 21 First Street., Orangeville on Friday, October 3, 2014 from 1:30 until time of the Celebration of Life in the chapel at 2:30 p.m.
A tree will be planted in memory of Theresa in the Dods & McNair Memorial Forest at the Island Lake Conservation Area, Orangeville.
A dedication service will be held on Sunday, September 13th, 2015 at 2:30 p.m.